Charli integrates with multiple third party applications. Integrations allow you to connect to your data sources, cloud storage, project management tools, and more to be used by Charli in order to create projects. Integrations can be connected and managed in the Charli web app.
Connect an integration
From the sidebar, click Integrations.
Scroll to the integration you would like to connect.
Click the Connect Integration button.

If the integration does not require credentials, the Charli conversation will confirm that the integration has been connected.

From the Charli conversation, click the authorization prompt.
Enter your credentials in the pop-up window and follow any subsequent prompts from the application.
Click Finish.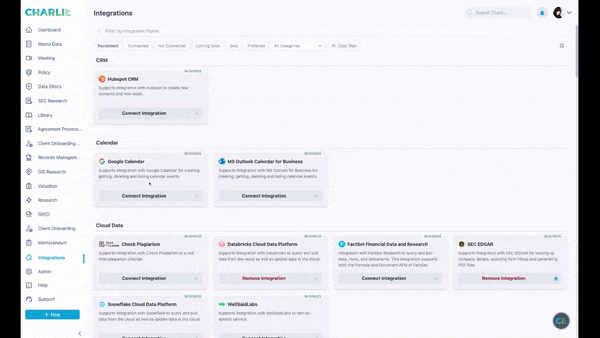 Set a default integration
If you have multiple integrations connected under a single category, it is possible to set a default integration.
Click the star on the integration listing to set it as the default.
If a default integration has not been set, Charli will choose the integration used to complete a task based on the alphabetical order of your connected integrations.



Reconnect an integration
If an integration has disconnected, you will receive an error in the Charli conversation notifying you that an integration has disconnected. You will need to reconnect the necessary integration before the workflow will be able to complete.
From the sidebar, click Integrations.
Navigate to disconnected integration by either:

Clicking Reconnect at the top of the page to filter your integrations.
Search for the integration in the search bar.

Click Reconnect.
Click Connect.
Follow prompts in the Charli conversation.
Once you have reconnected your integration, you can navigate back to your project and rerun the workflow.